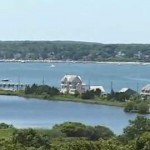 Oak Bluffs, one of the Massachusetts StormSmart Coasts communities, voted on May 4th to adopt a new floodplain overlay district bylaw.  An overwhelming majority of voters were in favor of the changes.  The new bylaw will prohibit new residential development and expansion of existing development in the most hazardous flood zones—those designated as V, VE, or AO zones on the Federal Emergency Management Agency's (FEMA) Flood Insurance Rate Maps.  The law will also require that all new development in less hazardous areas – those designated as A zones on FEMA's FIRMs – go through a special permit process.
All the requirements will help the town minimize threats to public health and safety and increase the town's capacity to bounce back after a storm by reducing damage to personal and public property.  For more information on zoning ordinances see passing strict zoning ordinances and regulations.
You can download the Oak Bluffs floodplain overlay district bylaw here.